What are your fees?
12% + $0.70 transaction fee
2.9% + $0.30 payment processing fee
Total Fees: 14.9% + $1
No listing fee
No ads fee
---
What can I sell?
Your products must be aimed at boys.

Your products must either be handmade or designed by yourself or your small team.

Your products must be hip, modern, classic or fun. 
Clothing and Essentials
Nothing with cartoons
Look, we love Paw Patrol, Daniel Tiger, Ninjago, and so many more of those characters that grab our boys attention, but you can find clothing, linens, and other essentials with those characters on them anywhere. totBoxx was created as an authentic, original, modern boys alternative to the cartoon world. You won't find cartoons on our clothes and essentials. Your boys have enough character.
Play 
Hip, modern, classic and fun toys that inspire learning, creativity, and imagination are our north star. But let's be real, as long as kids are having fun and being safe, then bring on the cartoon themed toys.
* Note that if some of your clothes meet these requirements and some don't, feel free to sell the ones that meet the requirements in the marketplace. 
---
Is marketing included in your fees?
Yes! We know how essential marketing is to help your business grow, so marketing is included in your transaction fee. We do a combination of paid, organic, SEO and PPC (pay per click) advertising on various channels, including social media, Google, etc. We may use your product photos, product listings, totBoxx marketplace shop pages, etc to direct customers to your shop page.
---
How do I set up my store?
Set up your store in minutes! The Set Up Wizard will walk you through it, but you can also find directions in our Store Set Up Guide. If you have any additional questions, comments or issues setting up your store, contact us at info@totboxx.com.
---
What is a Verified Seller?
We do our best to only include Sellers on totBoxx that are legitimate, credible, and honest. While you go through an initial application process before you can create your store, a Verified Seller takes extra steps, going through an additional screening process to show your legitimacy. Verified Sellers also receive more exposure in the marketplace, ads, etc.
In your Dashboard, at the top of the Settings section, please click Verification to complete this process.
---
How do I create and list my products?
Follow this guide to help create and list your products.
---
How do I set up shipping?
You can choose a number of different shipping methods. Refer to our Shipping Guide for more details.
---
How do I print a shipping label?
Once an order is Processing, you can proceed with the order fulfillment and print shipping labels directly from your dashboard, following the steps here.
---
How do I send tracking information and change order status to shipped?
1. After you've created a shipping label, scroll down to the Shipping Tracking section on the order page.
2. Select the little image of the blue truck.
3. A new window will open titled Shipment Tracking Info.
4. Enter the Tracking Code (aka tracking number).
5. Enter the Tracking URL (the shipping carrier webpage for that tracking number).
6. Select Submit. This will automatically mark the order status as Shipped and send an email to the customer with the tracking information and notifying them that their package has shipped.
---
How do I get paid?
Choosing your Payment Method is what dictates how you'll get paid. In your dashboard, go to Settings –> Payment. Then choose your preference:
Stripe: This is the preferred and most popular option. We know that receiving payment for every sale ASAP is a high priority, so we've integrated the totBoxx marketplace with

Stripe

, the top payment platform in the world. When you choose this option, you'll be prompted to connect your Stripe account (or easily create one if you don't have one). This will ensure that you get paid as soon as the customer pays.

Bank Transfer: This is a slower, manual wire transfer option that will be processed every two weeks. All of your sales revenue for each 2-week period will be held by totBoxx until we transfer it to you every two weeks.
---
How do I manage customer orders?
To view orders that have been placed, go to your dashboard, and choose Orders from the menu on the left. At the top of this screen you can filter by the following order status options:
All
Pending
Processing
On hold
Completed
Refunded
Shipped
You can then filter by:
At the far right of each order are actions you can perform:
View Details
Mark as Complete
Mark Shipped
Refund Request
---
How do I process refunds?
It's up to each Seller to decide if you want to offer refunds or exchanges. If you decide to offer refunds, the process is simple:
In your Store Dashboard, go to Orders. Find the order that you're going to refund. To the right of that order, in the Actions column click the refund icon (the two arrows)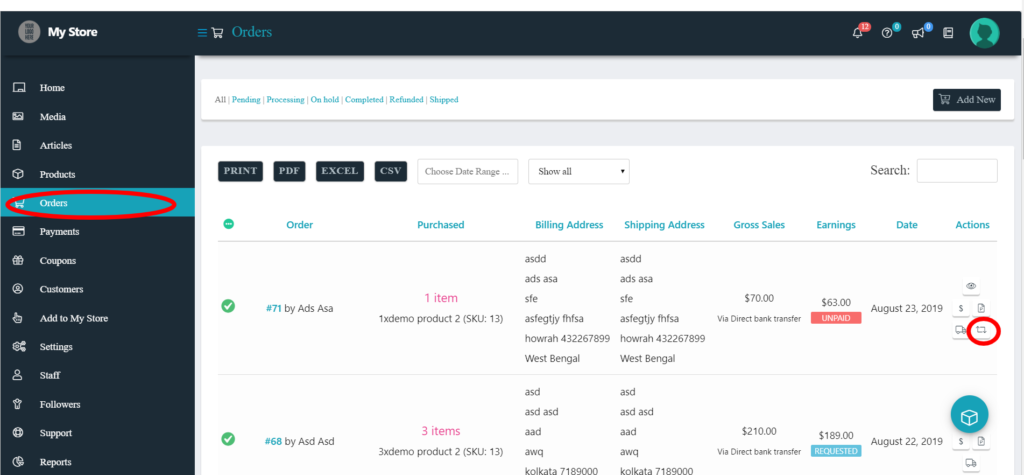 Upon clicking on the refund icon, you will be prompted to fill in the details of the refund:
Request Mode: Select full refund or partial refund from the drop-down. If you select partial refund, you'll need to fill in the refund amount.
Refund Request Reason: Write a reason for the refund (damaged product, wrong size, etc).
After you choose Submit, the refund will show as processed in your dashboard.
---
Can I see any analytics for my store?
Yes! Each Seller has access to their own personalized reports and analytics in their store dashboard. Go to your dashboard, and choose Reports from the menu on the left. Once there, you can review sales by product, by date, or stock, then further narrowed down by gross sales, admin feeds, refunds, orders, taxes, shipping, top sellers, top freebies, and top earners.
---
How do customer reviews work?
Reviews are a great tool to add credibility to your products and store. Customers who have purchased an item from your shop are allowed to write reviews (for that product). You do not have the option to delete reviews, however, if you receive reviews that are inappropriate or against our terms and conditions, please contact us at info@totboxx.com
---
How do customers contact us?
There are multiple ways customers can contact you.
Customers can send you an inquiry while on your store page or any of your product pages.
After a customer has purchased an item, they can create a support ticket from their account page in regards to that item.
If your email address is visible on your store page, they can email you directly from there.
---
How do inquiries work?
At the top right of your store page (and under the product description on your product pages), there is a button that says "Ask Seller a Question." Customers can click that to send you a question, comment, etc. You will then get an email notification. You will also see an alert in the top right corner of your dashboard (by the question mark icon), indicating how many inquiries you have. You can either click in the email, via the question mark, or choose the Inquiry option in your dashboard menu.
---
How do support tickets work?
After a customer places an order, they're able to see that order in their account dashboard. Within each order, they're able to choose Support which opens a Support Ticket box, asking them to choose the category, priority, and product, then requiring them to write what the issue is.
You'll get an email notification when a support ticket is submitted. You can respond to, manage, and sort support tickets from the Support section in your dashboard. Once you've resolved a support ticket, you can change the status to closed.
---
What is the totBoxx Seller Facebook Group?
The totBoxx Seller Facebook Group is the official group of totBoxx Sellers. It's a community to share business growth ideas, provide opportunities for collabs, partnerships for better purchasing power, and to provide emotional support. Join the group at https://www.facebook.com/groups/totboxxsellers 
---
What is the totBoxx Tribune?
The totBoxx Tribune is where you'll find resources, tips, stories, and more all about raising boys — from potty training to sleeping to behavior challenges. We know it takes a village to raise kids, and the totBoxx Tribune is here to help.
---
What are your Seller Terms and Conditions?
You can find our Seller Terms and Conditions here.
---
Need more help?
Contact us at info@totboxx.com